Charter Fishing

SALT LLC Charter Fishing Rates & Information
One thing that makes SALT Charters LLC at CoCo Marina stand out is our Charter Fishing Captains who have a combined experience of over 56 years. Because SALT LLC operates out of CoCo Marina, you are able to take advantage of all the services and amenities that you expect from a full service marina.
If you are looking for the fast action of a speckled trout bite, stretching your arms out with the unforgettable pull of a redfish or an offshore adventure where you don't know what may be pulling on the other end of your line, SALT LLC's Charter Fishing Captains at CoCo Marina can make it happen.
The captains will take care of anyone: experienced anglers, beginners, adults and children. Their job is to make your fishing experience one you will not forget! Whether you are looking for speckled trout, red fish, drum, red snapper, or cobia, there is no other place greater than CoCo Marina in Cocodrie to enjoy a day of fishing. What better way to do this than with an experienced Charter Fishing Captain who will take care of your trip from start to finish: tackle, bait, ice, experience and knowledge of Cocodrie waterways and fish, and more. Our captains can take a maximum of six individuals on a charter boat at one time. We accommodate larger parties by booking more than one captain as well.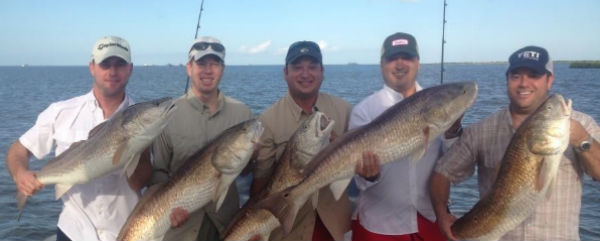 Upon check in, you can pre-order breakfast before your fishing trip as well as delicious sandwiches with fresh turkey or ham for the boat. You can get all you need for the boat at our store located inside our Lighthouse Restaurant. Wake up in the morning and arrive at our Lighthouse Restaurant for a cup of hot coffee, fuel yourself with a mouth-watering full breakfast or complimentary continental breakfast (cereal, yogurt, danishes, orange juice) then meet your captain at a set time for a trip you'll never forget. Your captain will help to ensure an easy trip by taking care of all of the boat arrangements including bait, rod rentals, ice, and tackle.
Charter Fishing Rates
Each boat can hold up to six people.
Shoreline Fishing: $750 / Offshore Fishing: $800
Half Day Shoreline (Seasonal): $550
*Price does not include fuel, bait, ice, tackle and fish cleaning
To reserve your charter fishing trip, please contact our main office today.