Captain Profiles

Meet SALT LLC's Charter Fishing Captains at CoCo Marina
Captain Eugene Foret
Captain Eugene "Gene" Foret is a lifelong resident of Cocodrie. He has been married for 35 years and has two daughters and five grandchildren. Not only did Gene grow up on the bayou, but he has fished the Cocodrie waters all of his life. Gene has guided out of Co Co Marina for 25 years. "Fishing is truly my passion. I enjoy it with my family, friends and most of all my clients. I love to share my knowledge of the sport with everyone I meet," said Gene.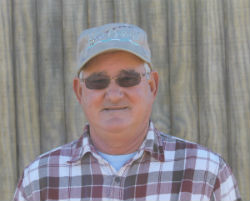 Gene has been featured multiple times as a guide over the last 25 years for WWL- TV's Fishing Game Report with the late fishing enthusiast and television personality Frank Davis. In March 2012, Gene, alongside CoCo Marina, had the pleasure of hosting TV host Roland Martin of the Emmy Award-winning show "Go Coast Louisiana", his wife and camera crew for four days of outstanding trout and bull red fishing. Gene was also featured in a National Geographic magazine documentary on fishing in South Louisiana. He has been interviewed and pictured for Louisiana Sportsman's Magazine, and Tennessee Game and Fish. Louisiana Outdoor Adventures also filmed an early spring trout show with Gene that is currently being broadcasted on the
World Fishing Network
. Also in 2012, Gene was honored to participate in a Louisiana Tourist Commission campaign promoting Louisiana tourism and was featured in their magazine and commercial that is televised state-wide.

"My job as a charter boat captain is very rewarding because it allows me to share my love of fishing and being on the water with others on a daily basis. I enjoy watching my clients' faces light up when they feel that tug on their line and the suspense while reeling in their catch to see what they have caught. I take great pleasure in showing them how to bait their lines, cast and set the hook. I especially appreciate Cocodrie and CoCo Marina as we are blessed with some of the best resources fishing has to offer," said Gene.


Captain Lee Schouest
Captain Lee Schouest has been working as a Captain at CoCo Marina for 11 years. He grew up fishing the rich waters out of Cocodrie since he was a child and is a third generation fisherman. "My family and I were born to fish, it's what we do and love. I have a true passion for fishing. I am fortunate to say I truly love my job that is why I am a full-time charter boat captain at CoCo Marina. I also believe that CoCo Marina is one of the best places to fish in the Gulf of Mexico," said Lee.

Captain Lee specializes in trout and red fishing. He also fishes for red snapper and cobia. He is often asked what is the best months to fish out of Cocodrie. "Fishing is good here year round but here are my personal opinions: Specked trout: April – August, Redfish : year round, Red Snapper: (in season set by federal government), Cobia: April, May, September & October, Black Drum: February, March, April, September & October." Captain Lee will always do his best to make each trip a success.

Captain Ryan Folse
Captain Ryan Folse has been charter fishing for CoCo Marina for over 10 years. Ryan ran charters for two years prior to joining the CoCo Marina team. He has been a United States Coast Guard 100 ton Master License holder since 1998. His love for fishing goes back to when he was a young boy fishing the Cocodrie waters with his father.

Over the years Ryan has pleased many clients by taking them on very productive fishing trips. His tremendous fishing success gave him opportunities to participate in television and videos with the late Frank Davis for the WWL-TV News' "Fishing Game Report" in New Orleans. He also participated in a video with Kevin Ford for "Louisiana Outdoor Adventure".

"I have a lot of energy and enthusiasm for the sport of fishing. It's a serious sport to me. I love getting out on the water with clients and sharing my excitement for the sport with them. There is nothing better than the waterways of Cocodrie for fishing, and the experience that we can provide as a SALT Charter Fishing Captain through CoCo Marina is unlike no other in this area and beyond. And of course, seeing my clients celebrating at CoCo Marina's Lighthouse Restaurant and Cabana Bar after a successful day of fishing makes it all worth it," said Ryan.